About us
Student dormitory YouthMents Riga is housed in a former soviet building of the Railway Transport Engineers Institute and has preserved some interior elements of it. However it is fully renovated apartment building now that brings together enthusiastic, open minded and young at heart individuals. A little bit of industrial feel here is blended with a contemporary touch.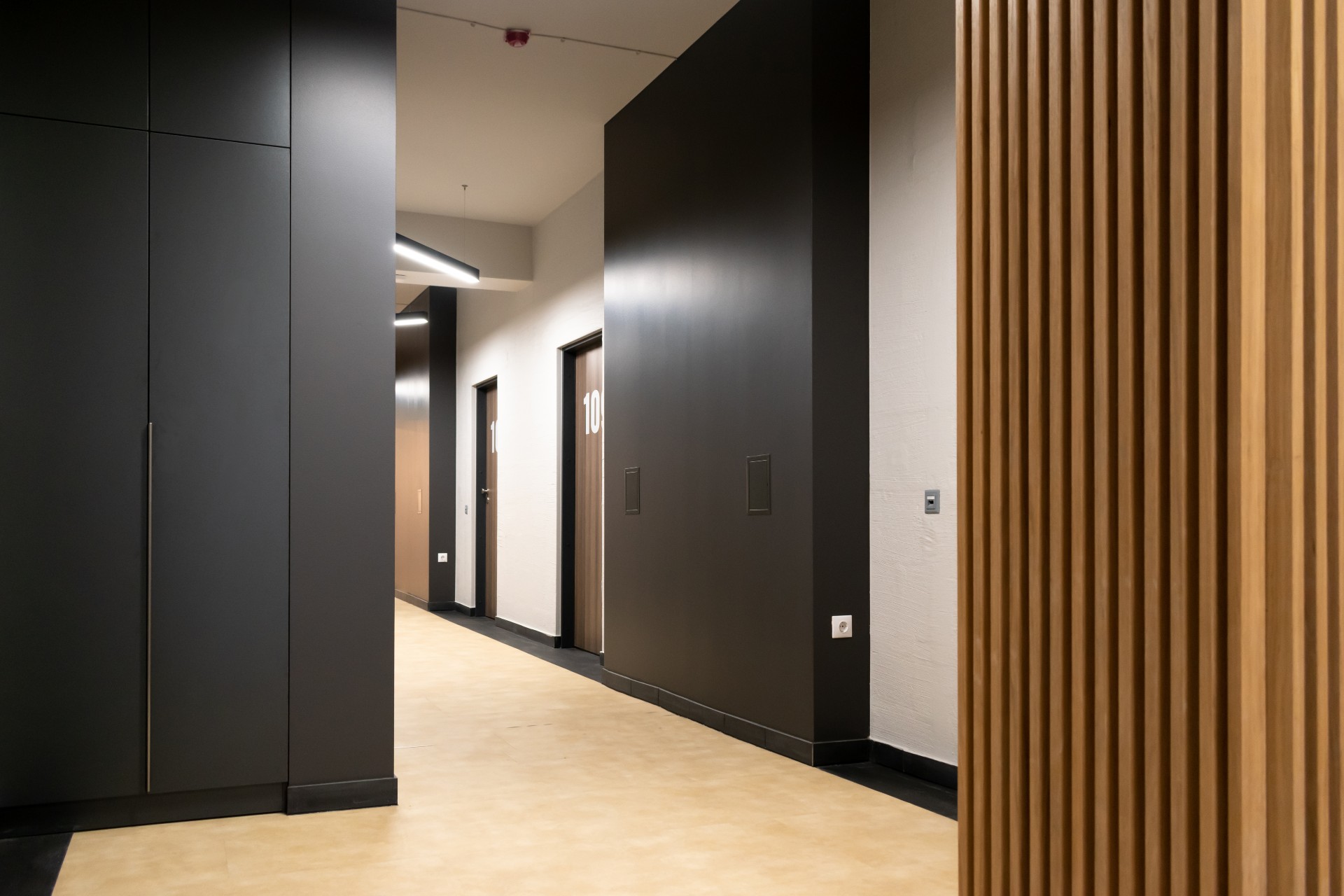 LOCATION
Student dormitory YouthMents Riga is situated in a historical and green district – Torņakalns (Tower Hill). It is located on the westbank of the Daugava River, known as Pārdaugava. More and more people nowadays, especially the young ones, move from the city center to this neighborhood, because of its green areas, laid-back vibes and the increase of trendy places. The name Torņakalns derives from a fortified tower built in the Middle Ages close to the Daugava River.
Māras dārzs (Mary's Garden) encircles the Māras dīķis (Mary's Pond) and is located only 9 min walking distance from YouthMents premises. It is a great park to relax, do some sports, take a walk and be close to nature. The Mārupe (Mary's creek) then continues into Arkādijas parks (Arcadian Park), where early 20th century landscaping provides an oasis from the city. It is a romantic and beautiful park only 7 min walking distance from YouthMents residence hall. 
WHO WE ARE
Student accommodation YouthMents is designed specifically for students and other individuals who are staying in Riga one month or more. We have 90 flats suitable for 1 or 2 persons. YouthMents has fantastic amenities including common room with awesome equipment in it, gym, laundry room, bicycle storage and more. We have an excellent security system, door locks with barcode scanner and fast WiFi. Experience quality housing at YouthMents!
Our mission:
YouthMents embodies the student spirit offering comfy and modern apartments to live in and awesome community to be a part of while delivering high service, positive atmosphere and sustainable practices.
Our vision:
YouthMents – the most desirable student hotel in Riga!
Our values:
Openness – we are tolerant, inclusive and we enjoy diversity.
Student spirit – we are forever young, active and fun.
Enthusiasm – we work and live with joy, passion and interest.
Curiosity – we believe in a lifelong learning.
Sustainability – we stand for environmentally friendly life and business.
Awareness – only by doing good for others, we can have a positive effect on everyone.